INTERESTED IN LEARNING HOW TO BE MORE SUPPORTIVE AND AFFIRMING OF TRANSGENDER & NON-BINARY PEOPLE?

TTI is a team of transgender and non-binary educators who facilitate professional development and personal growth trainings.  We provide tailored trainings for a wide range of clients, and also offer webinars and classes for individuals. 
All of our content is facilitated by our team of transgender and non-binary educators, so you are always learning directly from
–and financially supporting–
transgender and non-binary community members.  
Check out one of our 'Pay What You Can' webinars:
Sign up for one of our classes:
Local Time:
Mar 31 2021
- Apr 02 2021
|
No event found!
Or, check out our Training-of-Trainers Program: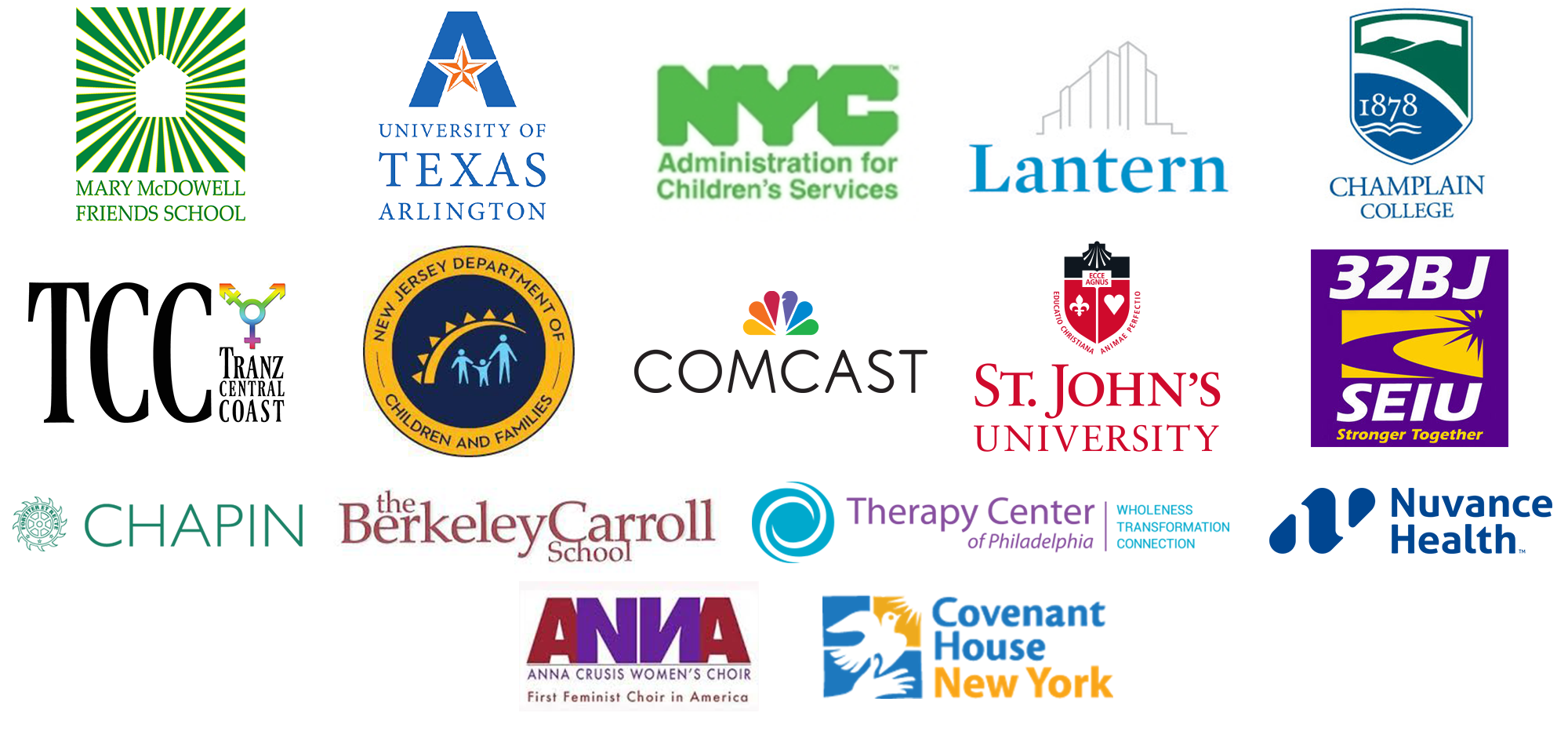 Feedback from Clients & Participants:
Client:  Seeking Foundations Course for Staff Training (Community Housing for People Living with HIV)
Many transgender and non-binary folks, as well as their loved ones, face extensive and severe discrimination, and are particularly vulnerable when accessing community-based services. This training is designed to help client support staff ensure that they are providing respectful services that affirm their transgender and non-binary clients' experiences. During this three hour session, we will review critical language, barriers to accessing services, and strategies to help support and affirm transgender youth, families, and communities –all through the lens of lived experiences of transgender and non-binary individuals. Case managers will be better prepared to create an affirming and welcoming housing environment for their clients.
Client: Seeking Trans 101 + Skills training for K-12 professional community

Understanding the Identities and Experiences of Transgender & Non-Binary Students
As more young people come out as transgender and non-binary at younger ages, it is essential that K-12 schools be knowledgeable about and prepared to meet the needs of transgender and non-binary students and their families. By proactively working to create a transgender inclusive and affirming environment, schools can help decrease the stigma, isolation, and rejection – and the related negative outcomes – experienced by many transgender and non-binary youth at non-supportive schools.  Becoming a more affirming school helps support vulnerable students in the present and the benefits are long lasting.  To that end, this training will provide the faculty and staff with a strong foundation for better understanding the identities, experiences, and needs of students who are transgender and non-binary, and discuss some of the skills and actions necessary to build a more affirming school.
Client: Seeking Trans 101 training for large HR team 

Building Affirming Workplaces: Supporting our Transgender & Non-Binary Employees

In order to do our best work, we all need to feel safe, respected, and appreciated. For the 1.4 million+ adults in the United States who identify as transgender or non-binary, the workplace often comes with some additional challenges in feeling safe, respected, and appreciated. In order to provide a workplace where transgender and non-binary people can do their best work, it is crucial that employers and colleagues work together to create an environment where these individuals can thrive. This 2-hour online training is designed to help Human Resources professionals increase their baseline knowledge of transgender and non-binary identities, awareness of the common challenges that individuals face in the workplace, and be better prepared to implement related skills. Topics include tips and tricks for learning someone's new name or pronoun, avoiding common microaggressions, and supporting employees through HR-related systems.
"Our time with Maybe was wonderful! Their keynote was engaging and entertaining and the 2 other sessions were highly informative and interesting. They were a wonderful addition to the conference. Everyone LOVED Maybe. There was a common theme in the comments about attendees appreciating how Maybe created a comfortable and safe space to learn and ask questions. Everyone thought Maybe was incredible and shared a lot of very valuable insight and information. The Microaggession session seems to have been especially powerful for people."
-
Erin Morris,
SUNY Cortland 
"Working with Eli to plan complex training schedules and content significantly enhanced the way I was able to instruct. Eli's consulting made multi-day workshops or high attendance trainings I conducted feel manageable and enjoyable for everyone! Eli helped me map out a game plan and craft my message effectively."
- Lindsey Lughes
Executive Director, LGBT Center of Raleigh
"We had a really great time with Jaymie. Overall the responses from the group were very positive, and they were definitely engaged throughout the training (which is a challenge when it's 4 hours in a row). I think he did an excellent job covering the topics we had requested and even those who definitely have had a good bit of transgender 101 training, were able to take something away."
-
Katie Penninga, HIV Department Manager, CA-based Federally Qualified Health Center system
"If you come in knowing nothing, you'll leave knowing more. If you come in knowing everything, you'll still leave knowing more. The presenters are engaging and able and willing to meet where you are to help you become the best possible ally to the trans community."
-Fall 2018 Onsite ATC Participant
AIDS Resource
"This is a perfect training for anyone who is doing this type of work. I met folks who were established trainers, prospective trainers, or who were casually educating their peers/colleagues. I think everyone was able to learn and practice valuable and practical skills. I would consider TTI TOT the gold standard."
- March 2019 Philly TOT Participant
"The TTI TOT was an incredible training experience. While I have been in facilitator trainings before, I have never been in a workshop as impactful or useful as the TOT. I truly feel that my capacity and confidence to continue my work as a facilitator have vastly grown, as have my connections to other folx doing this work. Thanks much to Eli and team!!"
- March 2019 TOT Participant
"I have never experienced a TOT that had my attention from start to finish. There was so much information, in any other TOT I would be fatigued halfway through, however this was a TOT lead by passion and love for the work we do, and it was phenomenal! So much gratitude for the work you do Eli! I feel renewed for the work I do."
- 2018 Onsite TOT Participant
Denver Health
Eli was fantastic! He made everyone feel comfortable and made the training understandable and enjoyable. Additionally, his methodical and well explained approach was incredible.The course material was comprehensive and easy to follow. If you want to attend a Transgender TOT that is highly interactive and engaging look no further - this is the best!
- July 2019 TOT Participant
"This was a fantastic training! Well planned, well researched, well designed/organized and well facilitated! The materials and resources are fantastic and will help immensely both for training and for reference. Easily one of the best professional trainings I have ever attended!"
- July 2019 TOT Participant
"If you are looking for an immersive experience that will shake up your knowledge and depth of curriculum - TTI's Training of Trainers is it. You will leave this space with a defined confidence in training, but also with more questions and curiosity that you came in with. There is nothing like it! 10/10."
- May 2019 Portland Oregon
TOT Participant
"This was the best training I have attended. Not only did it provide a space to apply practical strategies and practice skills, but it allowed for participants to learn from one another. The modeling of creating affirming spaces and handling microaggressions was something I really appreciated. The information and delivery were both thoughtful and deliberate. I would encourage anyone doing anti-oppression work of any kind to attend this training."
- May 2019 Portland Oregon
TOT Participant
-
"This is one of the most useful professional development opportunities I have attended. This increased my knowledge, attitudes, and skills about training pedagogy and anti-oppression work generally. On top of that I learned an incredible amount about training process and content related to transgender topics. Eli is a phenomenal facilitator, and this TOT is brilliantly designed to help adults learn. I got so much from this, and it set me up to continue my work and learning in an informed and supportive way. I strongly recommend this TOT for anyone doing any type of training- on trans 101 and related topics. I hope to participate in future trainings."
- May 2019 Portland Oregon
TOT Participant
"As a religious leader, this was a transformative experience for me. I was able to see both the harm and the hope that religious communities have in the Transgender community. With TOT I learned useful techniques to manage difficult situations and teach compassion in my trainings."
Sept 2018 Omaha, Nebraska
TOT Participant
"I had the Teaching Transgender Toolkit on my work bookshelf for three months without time to delve into it. Now, after this training, I know how to prepare a training and am eager for a chance to start training the content."
- Sept 2019 Onsite TOT Participant
NYC Department of Education
"TTI Ally/Advocate Training Camp provided me with knowledge, tools, and skills to continue to serve as an 'ally in training' to the transgender and non-binary community. It was a pleasure to learn from the training team and generate an unforgettable experience with the other trainees."
- Spring 2019 ATC Participant
It was inspiring to hold space with a group of other people committed to their own growth around being an ally/advocate for transgender and non-binary people and to be led with such generosity, clarity and compassion. It is rare to feel so taken care of, yet challenged by a space.
-2019 Spring ATC Participant
"My experience of attending Ally/Advocate Training has been incredibly impactful to my life, professionally and personally. It was a weekend surrounded by spectacular people wanting to do the kind of work to make the world we live in a beautiful, safer place."
-Spring 2019 ATC Participant
"I consider myself quite informed and open-minded, but this training camp reminded my how much more there always is to learn, and how much more growing we can always do. Thank you TTI!"
- Fall 2018 ATC participant
"I thought the knowledge I've gained over the years about LGBTQ communities was enough. What I discovered about the Transgender Community was an added bonus...thank you TTI for broadening my mind and my heart."
-Fall 2018 ATC Participant
"This was nothing short of a transformative experience. The teaching style was interactive, and there were no dull moments because of how engaging the trainers, material, and teaching were. We processed some deep, personal stuff regarding our own relationship to gender and sex, and TTI made it safe and welcoming to discuss our experiences, feelings, and concerns. It was healing, empowering, and full of knowledge. Would recommend for anyone interested in learning how to do this work!"
- Fall 2018 ATC Participant
"Dr. Eli Green is the best facilitator I have ever seen in action, and Dr. Green does an incredible job of holding space for learning, modeling patience/compassion/humor and teaching in a way that ensures the content is accessible without lowering the bar for the learners. I think anyone and everyone would benefit from attending the TOT. I highly, highly recommend this learning experience, both for the content and to see Dr. Green in action!"
-July 2019 TOT Participant
"If you're thinking about signing up for this training don't hesitate, just do it. The TOT is by far the most impactful, valuable training I've ever participated in and as a social worker, I've been to A LOT of trainings. Everyone present helped to create a space where it was ok to learn, to ask questions and to support each other in our learning process, wherever we were. I'm incredibly grateful to have had the opportunity to be a part of the TOT and excited to continue being part of this community as a TOT alumni."
- July 2019 TOT Participant
Eli not only taught us about how to be affirming and inclusive, he demonstrated it in how he facilitated our training and interacted with our community. I cannot recommend this training highly enough!
-ANNA Crusis Women's Choir
Training Participant
"Honestly, I was a little worried going into this that I might be disappointed by the lack of content for more advanced/experienced trainers (and we all know what it's like to sit in several days of boring/crappy training). However, the TOT program really does offer something for ALL trainers. There was a lot of nuance in the way that content was presented, and there were a bunch of new ideas for me to grab onto to incorporate into my existing body of trainings. I left knowing that what I am doing now is awesome, but that I can also take my trainings to a whole new level, especially with the Teaching Transgender Tookit itself, which is filled with interactive and engaging exercises for training attendees/participants.  So grateful for the work that TTI is doing, and for the way in which they're doing it."
- Dec 2019 TOT Participant
"Never have I attended a training where I felt so seen, validated, and challenged. Other facilitator trainings should take note because these folks know how to do it! I am normally a 'sit quietly in the back' kind of person, but the structure and energy of the whole experience made me feel genuinely comfortable and excited to engage!"
- Dec 2019 TOT Participant
"TTI's TOT was possibly the toughest, most intense, and yet most useful training I've ever had; and I've been to dozens and dozens of trainings. The content was powerful and a lot to take in; and the impact of each day stayed with me each evening and into the weekend...and is with me still. Dr. Green is an excellent trainer; his passion to reach the masses with this important message comes through the training program. It's almost like he reads the room, and provides tips we didn't know we'd need; like he's keyed into our wave length. I feel more confident as a trainer having TTI as a resource and touchstone."
- Aug 2018 Onsite TOT
Tranz Central Coast
"Do not pass up the opportunity to take this training. No training I have taken so far is more intentional, constructive, and impactful than TTI TOT. Eli is phenomenal in relaying his knowledge, skills, and experience as a professional facilitator. He is able to reach everyone in the room while still holding space for an affirming environment, acknowledging the intersectionality of the work everyone in the room is a part of, professionally and personally, time and time again - setting a model example of how one should always be intersectional when giving Transgender 101 trainings. I was not expecting to receive all that TOT gave and I am grateful for the time and experience. With new skills, new ideas, and an unknown feeling of *strong* confidence, I know how to continue my current work in training on transgender topics thanks to TTI TOT."
-Aug 2018 Onsite TOT
Tranz Central Coast
"Sage set such a great and open tone so that everyone felt comfortable speaking up."
-Susan Reif
Community Resources for Empowerment & Wellness
Duke University
"Maybe hit it out of the park! They did a great job and everyone was able to take away something."
—Anne Brenner, Vice President,
Human Resources, Tenement Museum
New York City
"Thanks to our partnership with TTI, our faculty, staff members, and trustees were prepared and determined to better support and affirm transgender and non-binary students in our school." 
-Erica Corbin, Director of Community Life and Diversity
The Chapin School, New York City