1. Ayni Herb Farm
AYNI is a Queer, Trans and BIPoC led herb farm, growing plant medicine guided by lunar rhythms on Haudenosaunee and Mohican lands in Hillsdale, NY. We grow herbs and offer educational programming that sustains ecological abundance to help us weave a tapestry of bioregional herbalism and climate-smart growing techniques in the Mahicantuck River Valley. With this grant we will be able to offer free access to our Fresh Herb CSA program for queer, trans, Black and Indigenous people. Each share includes 4-5 fresh herb bundles that support gender euphoria, rest, grief, HRT, immunity, pleasure, and digestion. Folks will also receive a detailed zine with information, recipes and inspiration on how to (re)connect with the plant medicine they receive.
Amount Funded: $3,000
Learn more at: @AyniHerbFarm
2. Queer and Trans Pleasure Anatomy
Sexuality Educator Eli Scriver is in the process of writing and creating a book of transgender pleasure anatomy. The project includes the most recent research on the effects of surgeries, HRT, social relationships, and psychosexual development on the erotic pleasure of transgender folks. It also includes trans-inclusive anatomical diagrams for healthcare providers, sexuality educators, and trans folks! Anecdotes from a diverse cast of trans, non-binary, and gender non-conforming people will enhance the breadth and depth of experiences that the project encompasses.
Amount Funded: $1,500
Learn more at: @eli.scriver
3. The Dear Queer Kid Coloring Book
Queer Kid Stuff is committed to spreading queer joy and we are so excited that we will be able to continue that mission this holiday season by sending out FREE queer-full joyful coloring pages and words of affirmation to trans and nonbinary kids through the TTI microgrant program!
Amount Funded: $2,000
Learn more at: @queerkidstuff
4. Trans Closet Hudson Valley
The Trans Closet is a mutual aid organization providing free clothing, gender-affirming accessories, and other resources to community in Hudson Valley. We are a small, entirely volunteer organization, by and for trans people, working to increase clothing access, combat economic injustice and public discrimination, support trans self-expression and gender euphoria, and cultivate healing spaces for trans, nonbinary, and questioning people to explore and express their identities and build community. Fast fashion and capitalist/cisnormative clothing stores don't take into account the beautiful variety of trans bodies and gender expressions. We will use these grant funds to purchase gender-affirming items that are harder to find in stores, direct resources for our community, and supplies to modify and alter clothing to fit trans bodies joyfully. This funding will allow the Trans Closet to hold community events that cultivate trans joy and survival.
Amount Funded: $3,000
Learn more at: @transclosethv
5. Trans Prisoner Power (TPP)
A.B.O. Comix is thrilled to introduce a pilot art swap program for currently-incarcerated LGBTQ artists. With the intention to form a more tight-knit community amongst queer & trans system-impacted artists, we will facilitate a mentorship program where artists will be able to share their creations and receive feedback from other prisoners nationwide. This program will consist of a series of bimonthly art swaps between artists at different facilities paired off and sent each other's art to respond to with written feedback or an art piece inspired by the work. Since prisoners are forbidden from corresponding directly with one another, our organization will serve as a go-between between artist pairs. Through TPP art swaps, we will facilitate a vibrant, joyful community between trans and queer people who are surviving largely on their own at their prison facilities.
Amount Funded: $3,000
Learn more at: @a.b.o.comix
6. Transmen Can Cook
Black Transmen Can Cook is currently working with aspiring chefs/authors to tell their stories about their life in the kitchen and create a cookbook called Transmen Can Cook. We are inviting Transmen of all ages, colors, and backgrounds to share this labor of love together. By creating this first-of-its-kind cookbook we will not only create delicious recipes to share but also create spaces that we learn from each other.
Amount Funded: $2,500
Learn more at: @blacktransmencancook
The Historical Details
This grant distribution seeks to specifically support trans and non-binary led efforts or projects.  

Awards range from $1,000 – $3,000.
This can be a brand new project or a project that you have already have in action that needs further support. We are particularly interested in funding projects that are not eligible for traditional funding streams.  You do NOT need to have non-profit status or work for a non-profit to apply.
All projects must be TRANS-LED, and we are prioritizing awarding projects led by/for BIPOC people and people who experience multiple marginalizations.
All applications must fall into one or more of the following categories:
Generating Trans Joy
Uplifting Trans & Non-Binary People who Experience Intersecting Oppressions
Uplifting Trans & Non-Binary People in Rural Settings
Trans-Centered Sex Ed
Abortion Access for Trans & Non-Binary People
All projects must be trans-led, and we are prioritizing awarding projects led by/for BIPOC people and people who experience multiple marginalizations.
We recognize that there is a global need for funding to support transgender and non-binary people living their lives throughout the world. While we wish we were able to provide funding to all in need, at the present time these grant funds are only available to organizations or individuals based in the United States.
Please note that acceptance of grant funds may have tax implications for individuals or LLCs who apply outside of an IRS recognized organization (i.e. an S-Corp, C-Corp or non-profit).  Plain language: If awarded, these funds may count as personal income, and you may have to report this as personal income and pay taxes on it. Everyone's situation is different and we cannot advise you about whether or not this will apply to you. Please check with your tax advisor for more information. You do NOT need to be an IRS recognized organization to apply.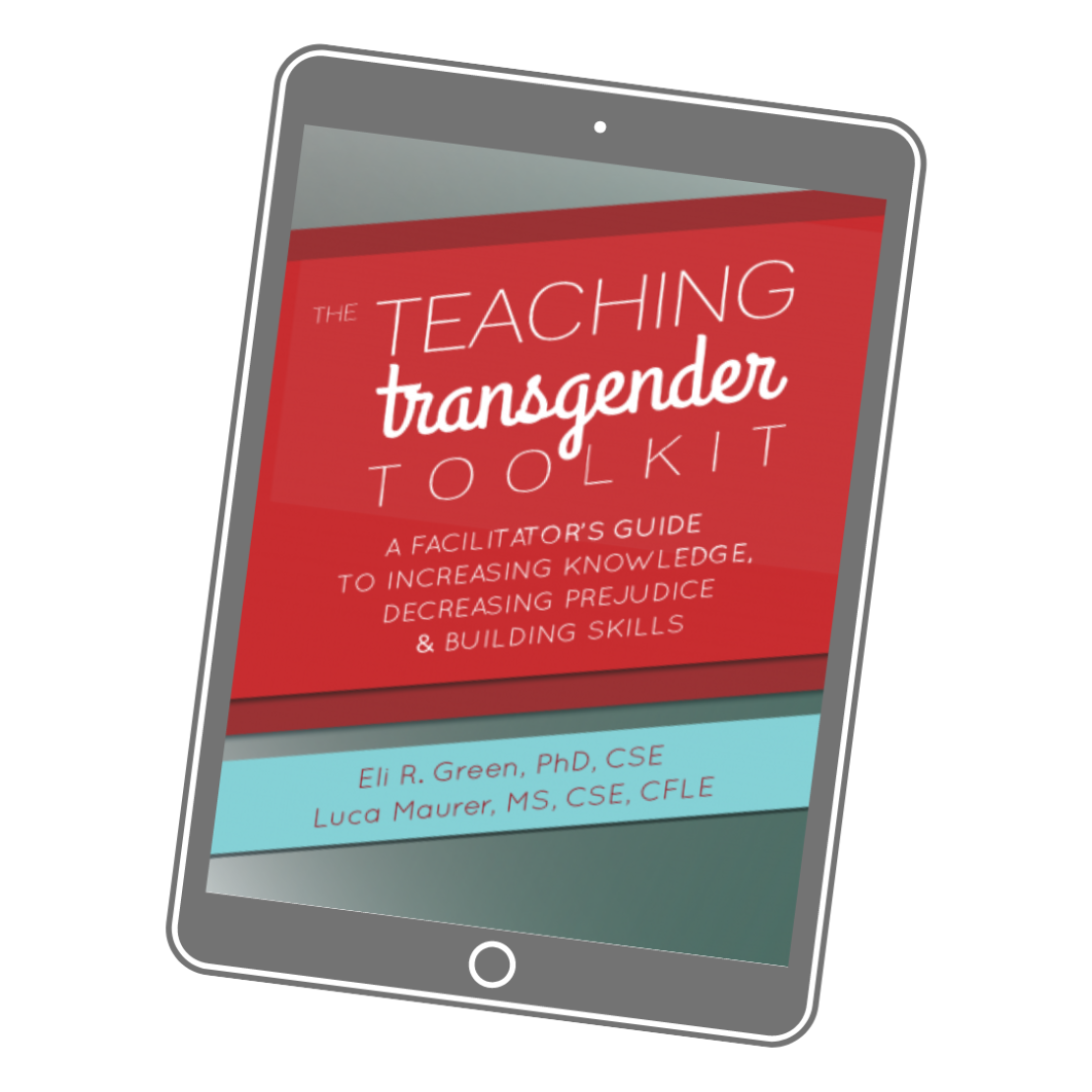 The Teaching Transgender Toolkit
Co-authored by Dr. Eli R. Green (TTI founder) with Luca Maurer (Ithaca College) The Teaching Transgender Toolkit is an award winning collection of 30 lesson plans designed to support facilitators in implementing impactful Transgender 101+ Trainings.