GROUP SUPERVISION FOR CLINICIANS
Clinical Supervision Group
One of our longest resident trainers, Sean Lare, LCSW-C runs 10-month sessions of group supervision cohort for clinicians supporting transgender and non-binary people and their loved ones. Group is generally held monthly, February-December, with a break in July, for 90-minutes each session, 1-2:30pm ET/ 10-11:30am PT, and limited to clinicians currently in practice.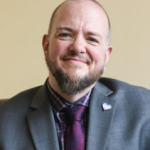 Sean is a licensed clinical social worker who is passionate about serving transgender and gender diverse communities, and about supporting others in this work through supervision, consultation, and training. He has been providing group and individual supervision for clinicians for over 8 years.  Sean loves getting into the nuances of what it means to do clinical work through a trans-affirming lens, swapping clinical strategies, and providing technical assistance and guidance to other clinicians.
We know there are a lot of great folks doing good work in isolation, and we are creating an intentional space to come together to learn, and support each other in doing this important work during difficult times!
After an initial "getting to know you" session, each group will start off with a general life and work check-in, and then individuals will have time to explore a topic of their choosing. It could be a current or past case, a recent training or reading, talk about professional development and career building, negotiation of personal and professional boundaries, self-care, Imposters' Syndrome — truly whatever is impacting your work or you would like support around. Each session will conclude with a session reflection and thoughts on moving your work forward in the next month. Throughout the group, we will be focusing on helping each other to grow personally and professionally, including recognizing and supporting the unlearning of internalized oppressions and operating from a place of social justice.
Logistics:
Group supervision meets once a month for 10 months. Groups will be held via Zoom. Whenever possible we request participation via webcam, in a quiet-ish place with reliable wifi and mic'd headphones. Groups range from 4-10 people, and we will strive to make sure everyone in the group is complementary as far as experience, knowledge and approach.
2024 dates will be released in October 2023. 
We ask that participants sign-up with the intention to complete the full 10 months and attend at least 8 out of 10 sessions.
To make this feasible and as accessible to as many as we can, group supervision is a pay what you can sliding scale, paid monthly on the 1st. When those who have more pay more, this makes it possible for people with less to participate.
$500 for the year ($50 a month)
$600 for the year ($60 a month)
$750 for the year ($75 a month)
$900 for the year ($90 a month)
$1100 for the year ($110 a month)
$1250 for the year ($125 a month)
$1500 for the year ($150 a month)
$1750 for the year ($175 a month)
Applications for Sean's 2023 Group Supervision were due January 17, 2023. If you would like to, you can apply now for our next cohort, or, sign up to get notified when have our dates for 2024.  If we have enough people submit applications, we may start a mid-year cohort.