Ready to register?
Spring 2020 – Clinician Specific ATC
We are pleased to be expanding our course offerings for 2020, with two new versions of our ATC! In the fall of 2020, we will be hosting a version of our Ally/Advocate Training Camp that is exclusively for Black, Indigenous, and/or people of color (Oct 15-16). This course will be facilitated by Dr. Jaymie Campbell and is an intentional BIPOC only space, for those who self-identify as a Black, Indigenous, and/or person of color. If you do not identify as a BIPOC, please check out one of our other ATC offerings instead.
We are also excited to share that we will be hosting an Ally/Advocate Training Camp specifically for Clinicians and Mental Health Providers Spring 2020 in Columbia, Maryland! This 2 day course, facilitated by TTI Senior Trainer, Sean Lare LCSW-C, offers 14 hours of CEs for Social Workers, and will meet ethics and LGBTQ Cultural Competency requirements through the Maryland Association of Social Workers. We will be announcing the details for this course this fall, so please make sure you are on our mailing list to be the first to know!
Registration Details for TTI's Ally/Advocate Training Camp: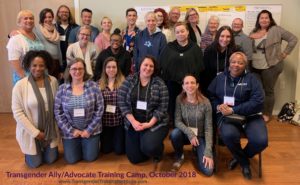 The registration fee for this ATC includes family style lunches from local businesses, snacks and beverages throughout the course, and access to the TTI Alumni private Facebook group upon completion of the course, and a contribution towards supporting those who are otherwise financially not able to attend.
ATC is open to anyone 14 or older, but anyone under the age of 18 must be accompanied by an adult.   (If you are looking for an ATC exclusively for youth, please contact us about our onsite youth-specific ATCs.)
Sliding Scale Rates:
We are excited to share that we are moving to a sliding scale structure for our Ally/Advocate Training Camps! We want folks who want to attend ATC to be able to do so, regardless of economic constraints, while also making sure that we are operating in accordance with our values of paying our trainers fairly for their time, energy and lived experiences while using responsible business practices.  By offering registration at different price points and allotting a certain number of tickets for each, we are able to have some control over the income which allows us to make sure that we will be able to cover our costs. (Please see our blog post here for a deeper dive into how we selected this structure and why.)
The full cost of attendance is $250 per person. If you cannot afford $250, please purchase one of our sliding scale tickets ($75, $125 & $200). If you can afford to pay more, we hope that you will consider doing so, to help support the attendance of others who cannot afford the full fee. 
When folks are able and willing to pay more, we redistribute those funds to cover the costs of the ticket for others who cannot afford to pay the full fee. We set aside a certain number of sliding scale spaces, but when folks who can afford to pay more do, we are able to use the difference in price to make another sliding scale seat available to those in need at this or a future ATC. While imperfect, this model allows us to balance all of the various factors with our values and provides opportunities for people with more economic privilege to directly benefit those who do not.
$250-$500 – 15+ seats available  (Full Price [$250] & Benefactor levels [$300, $350, $400, $500])
$200 – 2 seats available  (Sliding Scale)*
$150 – 2 seats available  (Sliding Scale)*
$75 –  2 seats available (Sliding Scale)*
We are also able to offer a 5% group discount for groups of 4-10, and a 10% group discount for groups of 11 or more.   *Since there are a limited number of sliding scale seats and that number can change based on Benefactor registrations, please email us if you would like to be added to the waitlist for a sliding scale seat.
Payment for your registration can be made through EventBrite here.  If you need an invoice or would prefer to send a check, please email us and we will send an invoice over.  Once you have completed your payment, you will be directed to a participant survey to finalize your attendance.  If you are coming in from out of town, please email us and we will send you our housing list, which includes all of our recommended options, including trans-affirming AirBnB's within walking distance to our training space, the local LGBTQ owned and run Bed and Breakfast, and hotels located nearby.
Ready to register? 
Spring 2020 – Clinician Specific ATC
Or, go back to our ATC course overview or check out our Training of Trainers.  
Prior Course Offerings:
April 6-7, 2019, Philadelphia
October 26-28, 2018, Philadelphia