Transparency in Hiring Priorities
Thanks to the generous response to our ongoing GoFundMe campaign, on June 23rd, TTI was able to launch a search for 2-3 new trainers to join our team. Since we posted the job announcement, we have been getting some feedback about our hiring priorities and the language we have used to represent them.  We are so grateful that people have been willing to offer us feedback and voice their concerns–we are always seeking opportunities to grow and evolve. We take feedback from our communities very seriously, and this helped us to realize that we need to provide more information about how we came to our stated priorities, and adjust the language that we are using to describe our decisions.  

How we got here:
TTI was officially founded in 2015 by Eli Green, as an LLC for his personal training and consulting work. As Eli's work grew and more support was needed, he asked trainers that he met through his Training-of-Trainers classes and network of peers to help meet the demand. In these early days, TTI was built on a foundation of community based relations, chosen family, and personal connections. It was only in 2019 that the idea of intentionally building a company shifted from a future fantasy to a legitimate possibility, and through a series of team discussions and financial decisions, became a reality in late 2020. Hiring done prior to 2020 was not done with a long-term goal of creating a sustainable training company, and most folks who came on early have stayed, so our current team heavily reflects our early roots.
When we decided to build TTI as a sustainable business, it was done with the collective agreement that in alignment with our values, we would work to intentionally build TTI as a company that represents the depth, breadth and inherent beauty of transgender and non-binary communities. These values guided our first hiring search in the fall of 2020, but we did not state any public priorities because we believed that we needed to be in compliance with Equal Opportunity Employment laws, which prohibit such statements. After finding out that we are exempt because we are hiring for contract positions, we wanted to challenge the status quo of coded language in job ads, and boldly state our hiring priorities for this search.
How we determined our hiring priorities:
As a first step in our fall 2020 hiring process, we created a demographics/identities survey that all team members were invited to complete so that we could better understand the range of identities and experiences we represent as a team. (This is now an annual practice at TTI.) The survey asked about: gender identity, sex assigned at birth, gender expression, sexual orientation, age, ability (physical/ coginitive /emotional), religion/spirituality, race/color/culture, class, size, and zodiac sun signs. Any team member could opt out of any question or the survey as a whole. We discussed the results as a team and decided that we wanted to primarily focus on addressing the fact that as a team, we are predominantly white and predominantly assigned female at birth. (More on this language in a second!)
Our stated priorities:
When writing the job announcement, we struggled with how to describe/define which genders we were trying to prioritize and de-prioritize based on our team's current demographics. We knew that if we made a list of who we wanted to include, we would further marginalize folks by accidentally leaving people out. In an effort to avoid this, we decided to state who is not being prioritized for this current round. It was our hope by saying who we were not going to hire, that we would communicate openness to everyone else in the expansive range of gender identities and expressions, without limiting it within a binary. Even more so because we absolutely did not want to put out a job ad that referenced sex assigned at birth because, well, that's gross. We know that there are many ways to talk about trans and non-binary communities, none of which will fully honor all identities and experiences. We played with the language and decided to use trans masculine as the descriptor. We didn't love it, we used it knowing that identity-related language is complex and imprecise and being conscious of perfection standards as a trap of white supremacy.
In our initial announcements, we stated:
The feedback we received:
When we posted the announcement on social media, we started to get feedback about the language we used in stating our priorities. Some of the feedback was opposition to excluding white people from the search, which was to be expected. The feedback that we received around our use of the trans masculine language was far more nuanced, and invited us to think more deeply.
We observed the following themes in the feedback we received:
There are gender expansive folks, specifically Two Spirit people, who don't identify as transgender, non-binary, or cisgender. To say that we are looking for transgender and non-binary educators was leaving out those who exist and identify outside of those terms.
Listing trans masculine as a group we were not looking to hire perpetuated the invisibility many trans masculine people feel.
For some, naming that we're not hiring trans masculine people implied a standard / expectation of gender expression and/or genital preference in who we were hiring.
How we are incorporating this feedback:
We receive this feedback with gratitude, and fully recognize that across transgender and non-binary communities, we hold many different identities, and that culture, race, and context play a strong role in how we are able/willing to identify ourselves. We also recognize that this is an instance where our intention and impact were not aligned, and that in doing so we have further marginalized members of our collective communities. Based on this feedback, we have updated our hiring language to better describe who we are seeking to hire, and have removed the trans masculine exclusionary language: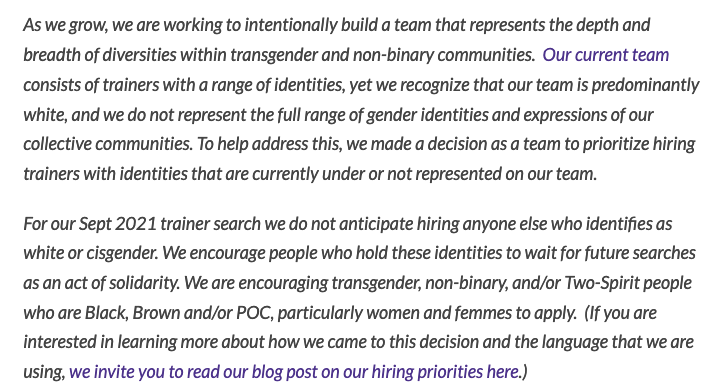 If you do not see yourself or identity reflected in our messaging and have interest in working with us, let us know! We encourage you to apply for these positions. We will also continue to interrogate our hiring practices, and integrate feedback into our future hiring searches. Thank you again to all who shared feedback, and we hope that this blog post has helped to provide clarity!
Please note that TTI closes every year for the first week+ of July to recover from Pride month trainings and prioritize self-care. This year we will be closed from July 1-9th, and we look forward to resuming conversations then! (If you have any questions related to applying, please email us at [email protected], which is being checked every 2-3 days for time sensitive messages during our hiatus.)