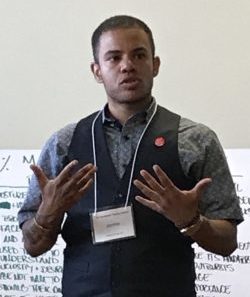 Getting to know our team
: Four questions with Dr. Campbell
We asked each of our Training Team members to answer a few questions about their work for TTI. These are Dr. Campbell's answers.
Why do you do this work?
I come from a long line of educators, and I love creating inclusive and affirming learning environments where people feel excited about learning, especially learning about topics that can bring up a lot of emotions for people, topics like racism and sexuality. Racism and sexuality affect people's personal lives as well as professional spaces like schools and organizations. When teaching, I keep in mind that information alone does not lead to behavior change – people need to be inspired in order to change their behaviors. I do this work so I can connect with people to motivate them to want to do better and be better towards transgender and non-binary folks, especially transgender and non-binary people of color.

Your favorite audiences to work with & why/favorite teaching story:
One of my favorite teaching stories is when I was working with high school students of color who started a Gay Straight Alliance (GSA) in their school. I was facilitating a workshop and we started off by saying our names and pronouns. I went first and said "I'm Jaymie, and I use they/them/they're pronouns," which were my pronouns at the time. After we all introduced ourselves and started talking, the group got kind of loud and it was difficult to hear what people were saying. A young leader quieted the group by saying "Shhh! Be quiet y'all! I want to hear what They is saying! Go ahead They and finish your sentence." I giggled and said "My name is still Jaymie, but my pronoun is they." It was then that I realized they didn't exactly know what I meant by pronoun, so I quickly did a grammar lesson. Over time, the students of color in the group began to experiment with their pronouns. They shared stories about how they didn't know they could change their pronouns, and how good it felt to choose language that better reflected how they felt inside, even if that changed from day to day. The young leader who emerged on that first day ended up doing a workshop at our annual youth conference teaching other students about gender identity and sexual orientation! A lot of people think that pronouns are not a big deal, but I have witnessed being able to designate a pronoun be life changing for young people as well as adults. I will never forget that student or that first day with their GSA.

Your hope for trans rights in 10 years?
My greatest hope for trans rights is that we will no longer need a Transgender Day of Remembrance because transgender people no longer lose their lives to brutal hate crimes.

Anything else you want to share about yourself?
I am one of the five people in the country who still watches Grey's Anatomy. Shonda Rhimes not only does right by people of color but transgender people too!