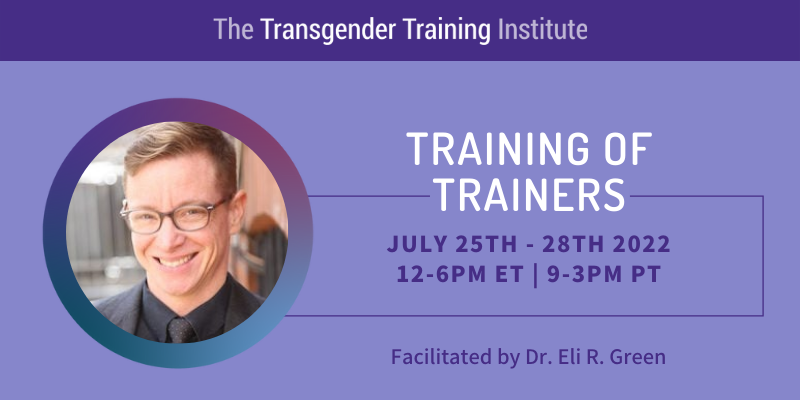 TTI's Training of Trainers – ONLINE
Our TOT is a professional development course for educators, trainers and facilitators who want to be better with trans-related content!
About TTI's Online Training of Trainers Course:  
Our hallmark Transgender Training-of-Trainers (TOT) is a professional development course for educators, trainers and facilitators who are interested in teaching transgender content to adults in professional development settings.  Over the course of the TOT, we break down each of the elements of a successful "Transgender 101" training, explore the nuances of facilitation, and help our participants to hone skills to deliver highly impactful trainings.  Using The Teaching Transgender Toolkit: A Facilitator's Guide to Increasing Knowledge, Decreasing Prejudice & Building Skills as a textbook for this course, we help prepare educators to implement the lesson plans included in the book and provide support around aspects of facilitation such as responding to Frequently Asked Questions, handling challenging participants, addressing microaggressions and managing resistance or social justice fatigue — with additional discussion of translating in-person learning online.
Our online TOT is a four day course that meets for 6 hours a day (12-6 PM ET/9AM-3PM PT, with a 45 min lunch break) and covers the same content as our in-person TOT, with additional coaching on how to translate from physical classroom to the virtual one. This will be an interactive class that integrates various elements of Zoom with Google Slides and other tools to create an interactive learning environment where we get to engage with each other in meaningful ways.  Each participant will be mailed a copy of The Teaching Transgender Toolkit and a participant folder with all the materials needed for the course about 10 days prior.
Dates & Times: July 25-28, 2022 – 12:00-6PM ET /9:00AM-3:00PM PT
Online via Zoom
Costs & Scholarships
The cost of attendance is $975/$825 for individuals who are having their costs reimbursed or covered by an organization/company ($975 if > $750,000 gross annually or $825 <$750,000 gross annually) and $675 for individuals who are paying independent of an organization. We also offer a student/early career professional rate of $465 for current students and those who have completed their degrees in the past 2 years and are not being reimbursed by an organization.
A limited number of scholarships are available for those who need financial support to attend our TOTs. Priority will be given to trainers who are: transgender, people of color, from under represented/high need areas, partners or loved ones of people who are transgender, and/or do not have sponsorship from an organization to attend.  Please visit our scholarship page in order to apply.   If you would like to donate to our scholarship fund, please see our travel support page here.
What is included in the cost: Participating in the course, a copy of The Teaching Transgender Toolkit, a contribution towards our scholarship program and access to our TOT alumni group on Facebook. Five percent (5%) of the proceeds for each TOT is donated to a non-profit run by or benefiting trans/non-binary communities, with a particular focus on donating to organizations that focus on intersectional anti-oppression work or serving highly vulnerable portions of trans/non-binary communities.
Questions? If you have any questions, please see our FAQs on our website or contact us.
Continuing Education (CE) Credits:
This program meets the requirements of the American Association of Sexuality Educators, Counselors and Therapists (AASECT) and is approved for 20 hours of CE credits. These CE credits may be applied toward AASECT certification and renewal of certification.
AASECT CEs are accepted by many mental health and medical credentialing bodies – please check with your board about how AASECT credits can be transferred. (Each board is different, and we would never want to misguide you, so we are unable to advise about whether or not your board will accept AASECT credits.)
You must register for CEs in order to receive them for this offering. Before you check out, you will be provided with the option to add CEs to your registration. (It is located as an additional option below each of the registration levels.)
Who Should Attend: This course is designed for individuals who have a solid transgender knowledge base and are interested in teaching this content to other adults.  Think of this is a course on how to teach transgender content, rather than what content to teach.  In order to get the most out of this TOT, all attendees should have and a strong foundational understanding of transgender identities/experiences, and ideally some experience as a trainer /facilitator, but that is not required.
People of all gender identities and expressions are welcome in our TOTs and we consistently strive to create a learning space that is fully affirming and we can all show up as our true selves. Our trainings draw participants from all over North America, and a wide variety of implementation settings, including:  K-12 schools, diversity trainings, colleges and universities, public health organizations, direct service and community based organizations, and corporate environments.
Finalizing your registration:
Once you have completed your registration, you will receive confirmation from Eventbrite, along with an email from TTI Registration – that email will include a link to a registration survey that you will need to complete in order to finalize your attendance.
Please take a moment to familiarize yourself with our webinar & course policies. If you have any questions or concerns, please visit our website, or email our Registration Coordinator, Forever Moon, at [email protected] (Please note that our emails sometimes get stuck in spam folders because of the word transgender. If you are missing an email from us, please check your spam/junk folder.)
About TTI:
TTI is proudly trans-owned and run business. We are a team of transgender and non-binary educators who facilitate professional development and personal growth trainings with the goal of creating a more just, equitable and affirming world. All of our content is facilitated by our team of transgender and non-binary educators, so you are always learning directly from –and financially supporting– transgender and non-binary community members. Learn more about us and our values here.