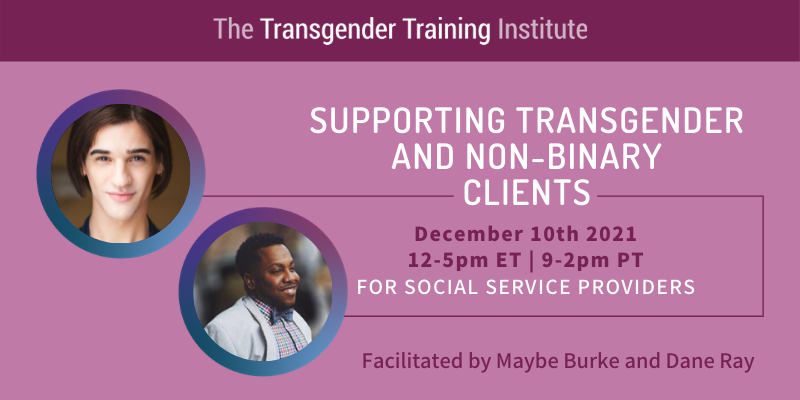 Supporting Trans & Non-Binary Clients: For Social Service Providers – 12/10
Want to learn how to better support trans and non-binary clients? This 5 hour interactive online course offers the tools for affirming care!
Supporting Transgender & Non-Binary Clients: For Social Service Providers
Open to all social service and direct care providers.
Date: December 10, 2021
Time: 12:00-5:00 PM ET / 9:00 AM – 2:00 PM PT, via Zoom.
As we see more people coming out as transgender and non-binary people and at younger ages and throughout the lifespan, it is essential that social service providers and direct care workers are prepared to provide affirming care. By proactively working to create inclusive and affirming services and environments, social service providers and community care professionals can help decrease the stigma, isolation and rejection – and the related negative outcomes– experienced by many transgender and non-binary individuals in non-supportive spaces. This 5-hour foundational training will provide participants with a strong foundation for better understanding the identities, experiences and needs of youth and adults who are transgender or non-binary, as well as concrete strategies, skills and resources for supporting transgender and non-binary individuals from all walks of life.
Course Goals & Objectives:
Program Goals:
Have a foundational understanding of transgender and non-binary identities and experiences, including the basics of affirming language and non-affirming language to avoid.
Have an increased understanding of the challenges that transgender and non-binary individuals face on a daily basis, with particular focus on navigating intersecting identities, while accessing social services and understanding the impact on their emotional, physical and mental health and wellbeing.
Be prepared to implement individual best practices when working with individuals who are transgender and non-binary which will contribute to an overall trans-affirming cultural climate.
Learning Outcomes:
After completing this training, participants will be able to:
Accurately explain the differences between sex assigned at birth, gender identity, gender expression and sexual orientation.
Describe three of the negative outcomes experienced by transgender and non-binary individuals as a result of not being fully affirmed, and three strategies for mitigating these negative outcomes.
Provide 2 examples of how intersections of gender with race, class, ability, and other marginalized identities compound the negative outcomes experienced by transgender and non-binary people.
Successfully demonstrate use of transgender and non-binary affirming language when asking for affirming name and pronouns, and how to handle misgendering.
Examine current professional practices and identify 5 areas of improvement towards becoming a more affirming, accepting and accessible service provider /professional.
Identify three common challenges transgender and non-binary individuals experience in mental health care settings and the impact of these challenges on their quality of life and health and wellbeing.
Continuing Education (CE) Credits:
This program meets the requirements of the American Association of Sexuality Educators, Counselors and Therapists (AASECT) and is approved for 4 hours of CE credits. These CE credits may be applied toward AASECT certification and renewal of certification.
AASECT CEs are accepted by many mental health and medical credentialing bodies – please check with your board about how AASECT credits can be transferred. (Each board is different, and we would never want to misguide you, so we are unable to advise about whether or not your board will accept AASECT credits.)
You must register for CEs in order to receive them for this offering. Before you check out, you will be provided with the option to add CEs to your registration. (It is located as an additional option below each of the registration levels.)
Finalizing your registration:
Once you have completed your registration, you will receive confirmation from Eventbrite, along with an email from TTI Registration – that email will include a link to a registration survey that you will need to complete in order to finalize your attendance.
Please take a moment to familiarize yourself with our webinar & course policies. If you have any questions or concerns, please visit our website, or email our Registration Coordinator, Forever Moon, at [email protected] (Please note that our emails sometimes get stuck in spam folders because of the word transgender. If you are missing an email from us, please check your spam/junk folder.)
About TTI:
TTI is proudly trans-owned and run business. We are a team of transgender and non-binary educators who facilitate professional development and personal growth trainings with the goal of creating a more just, equitable and affirming world. All of our content is facilitated by our team of transgender and non-binary educators, so you are always learning directly from –and financially supporting– transgender and non-binary community members.
The funds generated from this webinar go directly to our team members, with 55% going to the facilitator, 30% going to the support team, and 15% going to cover our operating expenses. Learn more about us and our values here.