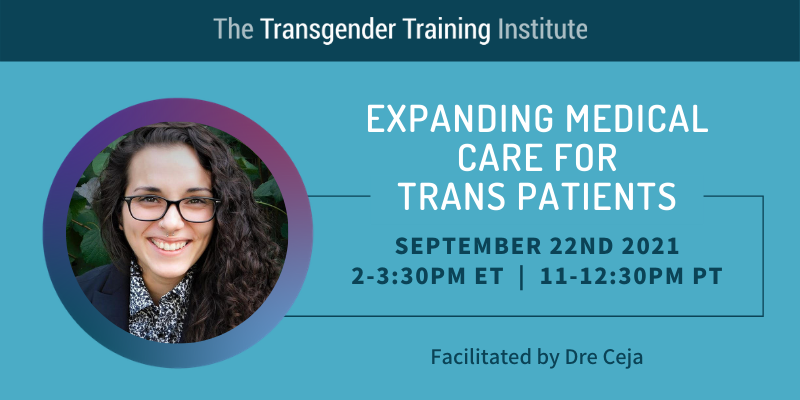 Expanding Medical Care for Trans Patients
Come dive deeper into the ways transgender and non-binary patients can be affirmed beyond checking boxes on a "best practice" list.
xpanding the Breadth of Services for Transgender and Non-Binary Patients
As health care providers across specialties are beginning to see more gender diverse patients, there is an increasing need for affirming, competent, and welcoming holistic care. Unfortunately, for transgender and non-binary patients, this type of healthcare can be very difficult to find. According to the 2015 National Transgender Survey, participants expressed that they experienced many barriers to accessing healthcare including lack of adequate insurance coverage, mistreatment by health providers, and health providers' discomfort or inexperience with treating transgender people.¹ While it's important that all staff – from front desk and intake staff, MAs, nurses, clinicians, lab techs, etc. be trained in the basics of respecting and understanding transgender and non-binary identities, patients need and deserve more.
In this webinar, we will be elaborating on what was covered in the "Basics of Trans Affirming Care" and dive deeper into the many ways that transgender and non-binary patients can be affirmed beyond checking boxes on a "best practice" list. We will cover how to create inclusive and expansive language for services, how to honor patient privacy and find respectful ways to discuss bodies, and how to build a better understanding of what constitutes gender affirming care – as well as the role you can play in supporting transgender and non-binary patients through all stages of care.
¹James, S. E., Herman, J. L., Rankin, S., Keisling, M., Mottet, L., & Anafi, M. (2016). The Report of the 2015 U.S. Transgender Survey. Washington, DC: National Center for Transgender Equality.
Date: September 22, 2021
Time: 2:00-3:30 PM ET / 11:00 AM-12:30 PM PT
Pay What You Can (PWYC)
We understand that COVID has tossed a lot people's finances into long term flux and we want to make our courses accessible. We are operating from a place of inviting folks to pay what you can. Suggested range: $35-75. Suggested minimum: $25.
Continuing Education (CE) Credits:
This program meets the requirements of the American Association of Sexuality Educators, Counselors and Therapists (AASECT) and is approved for 1.5 hours of CE credits. These CE credits may be applied toward AASECT certification and renewal of certification.
AASECT CEs are accepted by many mental health and medical credentialing bodies – please check with your board about how AASECT credits can be transferred. (Each board is different, and we would never want to misguide you, so we are unable to advise about whether or not your board will accept AASECT credits.)
You must register for CEs in order to receive them for this offering. Before you check out, you will be provided with the option to add CEs to your registration. (It is located as an additional option below each of the registration levels.)
Finalizing your registration:
Once you have completed your registration, you will receive confirmation from Eventbrite, along with an email from TTI Registration – that email will include a link to a registration survey that you will need to complete in order to finalize your attendance.
Please take a moment to familiarize yourself with our webinar & course policies. If you have any questions or concerns, please visit our website, or email our Registration Coordinator, Forever Moon, at [email protected] (Please note that our emails sometimes get stuck in spam folders because of the word transgender. If you are missing an email from us, please check your spam/junk folder.)
About TTI:
TTI is proudly trans-owned and run business. We are a team of transgender and non-binary educators who facilitate professional development and personal growth trainings with the goal of creating a more just, equitable and affirming world. All of our content is facilitated by our team of transgender and non-binary educators, so you are always learning directly from –and financially supporting– transgender and non-binary community members.
The funds generated from this webinar go directly to our team members, with 55% going to the facilitator, 30% going to the support team, and 15% going to cover our operating expenses. Learn more about us and our values here.