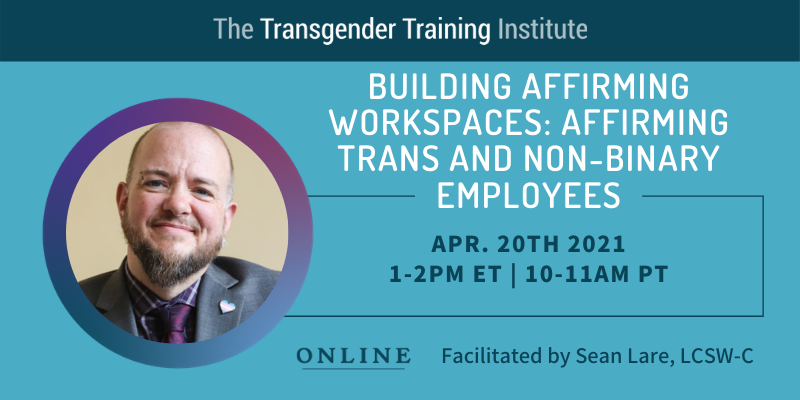 Building Affirming Workplaces: Supporting Trans & Non-Binary Employees
Make your organization more affirming for your transgender and non-binary employees and colleagues!
In order to do our best work, we all need to feel safe, respected, and appreciated. For the 1.4+ million adults in the United States who identify as transgender or non-binary, the workplace often comes with some additional challenges in feeling safe, respected and appreciated. In order to provide a workplace where transgender and non-binary people can do their best work, it is crucial that employers and colleagues work together to create an environment where these individuals can thrive. This one-hour interactive presentation is designed to help human resources professionals increase their baseline knowledge and awareness of the common challenges that individuals face in the workplace and be better prepared to implement trans-affirming-related policies.
Goals:
1. Provide a foundational understanding of how transgender and non-binary employees may experience the workplace differently than their cisgender peers,
2. Increase participants' knowledge of and ability to engage in transgender-affirming environments.
Objectives:
Describe three examples of how transgender and non-binary people's experiences in the workplace may differ from their cisgender peers.
Name two actions that they can take to be a more affirming ally to peers who are transgender or non-binary.
Pay What You Can:
We understand that COVID has tossed a lot people's finances into long term flux and we want to make our courses accessible. We are operating from a place of inviting folks to pay what you can. Suggested range: $35-75. Suggested minimum: $20.