Transgender Ally/Advocate Training Camp – ONLINE – June 22-24, 2021
June 22 @ 12:00 PM

-

June 24 @ 5:00 PM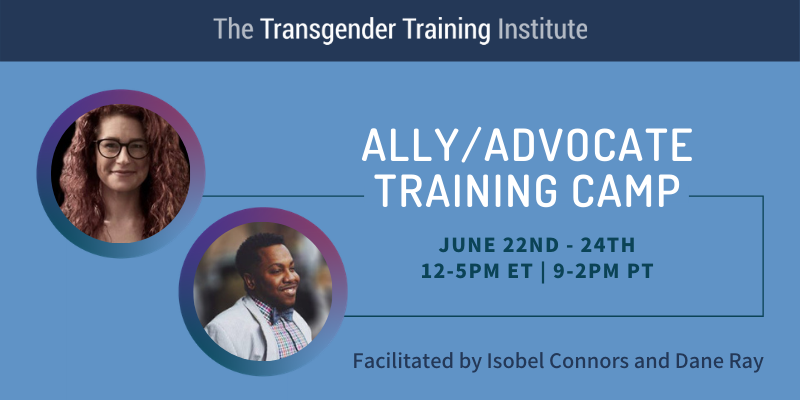 Want to be a better ally or advocate for transgender and non-binary individuals?  Come join us for TTI's virtual Ally/Advocate Training Camp
The Transgender Training Institute's Ally/Advocate Training Camp: 
Want to be a better ally or advocate for transgender and non-binary individuals?  Come join us for TTI's Ally/Advocate Training Camp (ATC)!  This class helps participants increase their transgender and non-binary-related knowledge and provides opportunities to practice the key skills needed by allies to be effective advocates.  Whether you have a family member who has recently come out to you as transgender or non-binary, you want to better support a friend or loved one who is transitioning, are seeking to be a more effective ally in the workplace or you just want to be better informed, ATC will help build your knowledge and skills to be a better ally and advocate! 
Dates/Times: June 22-24, 2021 from 12-5 PM ET / 9AM – 2PM PT Online, Via Zoom. 
ATC is open to anyone 14 or older, but anyone under the age of 18 must be accompanied by an adult.   (If you are looking for an ATC exclusively for youth, please contact us.)
(Read our full course description here.) 
Sliding Scale Rates:
We want folks who want to attend ATC to be able to do so, regardless of economic constraints, while also making sure that we are operating in accordance with our values of paying our trainers fairly for their time, energy and lived experiences, while using sustainable business practices.  (Please see our blog post here for a deeper dive into how we selected our sliding scale structure.)  The full cost of attendance is $350 per person. We set aside a certain number of Sliding Scale spaces, but when folks who can afford to pay more do (Benefactors), we are able to use the difference in price to make another sliding scale seat available to those in need at this or a future ATC.  Please see our guide here before picking a payment level, or use our handy graphic to help determine your registration level.
$350-$500 – 15+ seats available  (Full Price [$350] & Benefactor levels [$400, $500])
$275 – 3 seats available (Sliding Scale)
$200 – 1 seats available (Sliding Scale)
$150 – 1 seats available (Sliding Scale)
$100 – 1 seat available  (Sliding Scale)
Continuing Education (CE) Credits:
This program meets the requirements of the American Association of Sexuality Educators, Counselors and Therapists (AASECT) and is approved for 12 hours of CE credits. These CE credits may be applied toward AASECT certification and renewal of certification.
AASECT CEs are accepted by many mental health and medical credentialing bodies – please check with your board about how AASECT credits can be transferred. (Each board is different, and we would never want to misguide you, so we are unable to advise about whether or not your board will accept AASECT credits.)
You must register for CEs in order to receive them for this offering. Before you check out, you will be provided with the option to add CEs to your registration. (It is located as an additional option below each of the registration levels.)
Finalizing your registration:
Once you have completed your registration, you will receive confirmation from Eventbrite, along with an email from TTI Registration – that email will include a link to a registration survey that you will need to complete in order to finalize your attendance.
Please take a moment to familiarize yourself with our webinar & course policies. If you have any questions or concerns, please visit our website, or email our Registration Coordinator, Forever Moon, at registration@transgendertraininginstitute.com. (Please note that our emails sometimes get stuck in spam folders because of the word transgender. If you are missing an email from us, please check your spam/junk folder.)
About TTI:
TTI is proudly trans-owned and run business. We are a team of transgender and non-binary educators who facilitate professional development and personal growth trainings with the goal of creating a more just, equitable and affirming world. All of our content is facilitated by our team of transgender and non-binary educators, so you are always learning directly from –and financially supporting– transgender and non-binary community members.
The funds generated from this webinar go directly to our team members, with 55% going to the facilitator, 30% going to the support team, and 15% going to cover our operating expenses. Learn more about us and our values here.