Trans Affirming Care: Surgery Letter Writing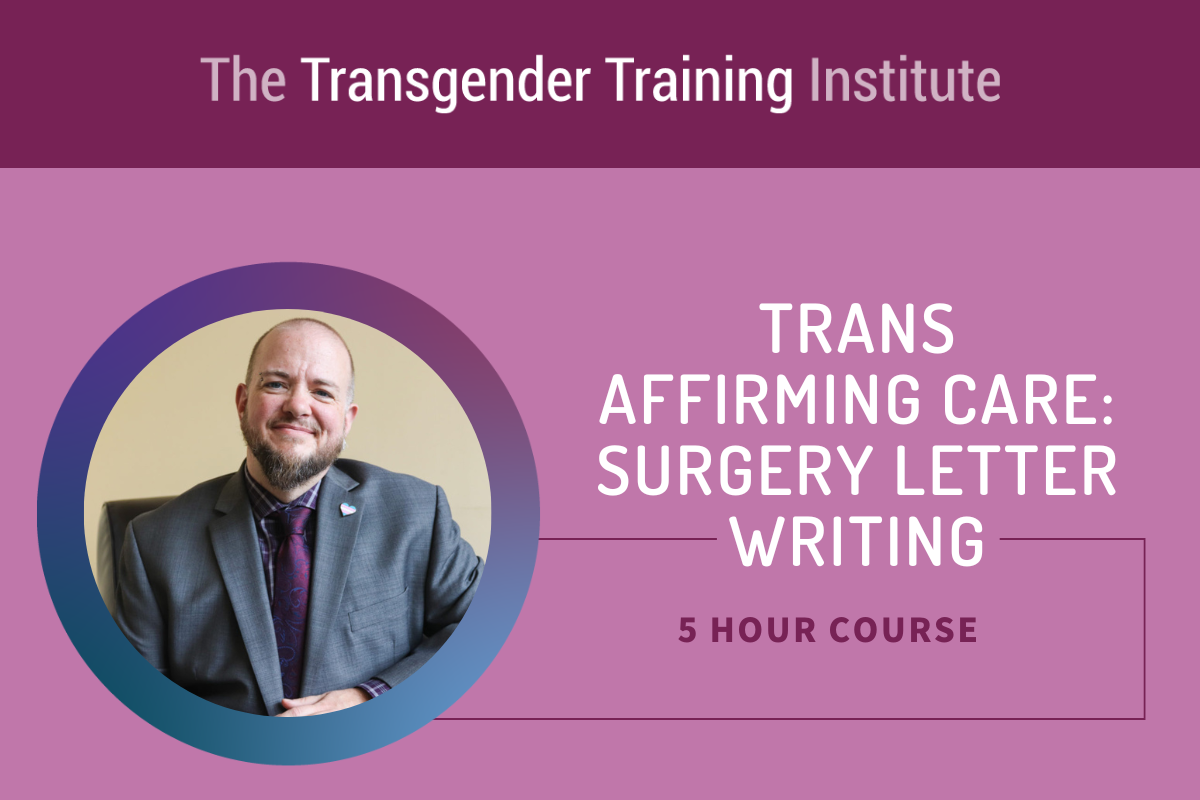 Learn what to include in letters to support trans & non-binary clients for accessing gender affirming surgeries.
Trans Affirming Care: Surgery Letter Writing
The World Professional Association for Transgender Health (WPATH) sets forth the Standards of Care (SOC). Insurance companies and surgeons follow the WPATH guidelines when setting their requirements for trans and non-binary people to receive gender affirming surgical care. The 7th version* of the SOC recommend transgender clients provide their surgeons with one to two letters from mental health providers before they are cleared for surgery. However, the majority of mental health providers have not received adequate training in providing this type of service and are not familiar with the multiple surgical options available or the process of recovering from a major surgery.
This 5-hour workshop is designed for mental health professionals who would like to receive training on meeting with trans and non-binary people wanting surgical care, as well as writing the letters for transgender clients who desire to undergo gender affirming surgical procedures. Specific focus will be on assisting clients to be practically prepared for the process of surgery and recovery; and on clinicians to develop a trans-affirming lens when writing medical necessity letters. Best suited for mental health providers who have some experience working with transgender and non-binary clients.
This training is for an advanced skill set and requires some prerequisite knowledge and experience working with transgender clients. Participants should come to this training knowing terminology, common experiences of transgender people, and clinical interventions. Participants are highly encouraged to attend our two part series: https://www.eventbrite.com/cc/mental-health-providers-47119
*Note: the content of this course will be updated to reflect the 8th version of the SOC, once it is released.
Learning Objectives:
By the end of the course participants will be able to:
Identify 2 of the basic requirements for most gender affirming surgical procedures
Identify 3 challenges of the medical model
Describe at least 4 considerations when writing gender affirming support letters as alternative approaches to the medical model
List at least 3 that are not requirements for a gender affirming support letter
Sliding Scale Rates:
We want folks who want to attend to be able to do so, regardless of economic constraints, while also making sure that we are operating in accordance with our values of paying our trainers fairly for their time, energy and lived experiences, while using sustainable business practices.  (Please see our blog post here for a deeper dive into how we selected our sliding scale structure.)  The full cost of attendance is $275 per person. We set aside a certain number of Sliding Scale spaces, but when folks who can afford to pay more do (Benefactors), we are able to use the difference in price to make another sliding scale seat available to those in need at this or a future offering.  Please use our handy graphic to help determine your registration level
$275-$375 – 15+ seats available  (Full Price [$275] & Benefactor levels [$300, $325, $375])
$175- 3 seats available (Sliding Scale)
$75 – 2 seats available (Sliding Scale)
Continuing Education (CE) Credits:
This program meets the requirements of the American Association of Sexuality Educators, Counselors and Therapists (AASECT) and is approved for 4 hours of CE credits. These CE credits may be applied toward AASECT certification and renewal of certification.
AASECT CEs are accepted by many mental health and medical credentialing bodies – please check with your board about how AASECT credits can be transferred. (Each board is different, and we would never want to misguide you, so we are unable to advise about whether or not your board will accept AASECT credits.)
AASECT Certification Disclaimer
Completion of this program does not ensure or guarantee AASECT certification. For further information please contact [email protected]
You must register for CEs in order to receive them for this offering. Before you check out, you will be provided with the option to add CEs to your registration. (It is located as an additional option below each of the registration levels.)
Finalizing your registration:
Once you have completed your registration, you will receive confirmation from Eventbrite, along with an email from TTI Registration – that email will include a link to a registration survey that you will need to complete in order to finalize your attendance.
Please take a moment to familiarize yourself with our webinar & course policies. If you have any questions or concerns, please visit our website, or email our Registration Coordinator, Forever Moon, at [email protected] (Please note that our emails sometimes get stuck in spam folders because of the word transgender. If you are missing an email from us, please check your spam/junk folder.)
TTI's Accessibility Options
About TTI:
TTI is proudly trans-owned and run business. We are a team of transgender and non-binary educators who facilitate professional development and personal growth trainings with the goal of creating a more just, equitable and affirming world. All of our content is facilitated by our team of transgender and non-binary educators, so you are always learning directly from –and financially supporting– transgender and non-binary community members.
The funds generated from this webinar go directly to our team members, with 55% going to the facilitator, 30% going to the support team, and 15% going to cover our operating expenses. Learn more about us and our values here.