Gender Inclusion in Feminist Language – 6/29/22, 6:30-8PM ET/3:30-5PM PT
June 29 @ 6:30 PM

-

8:00 PM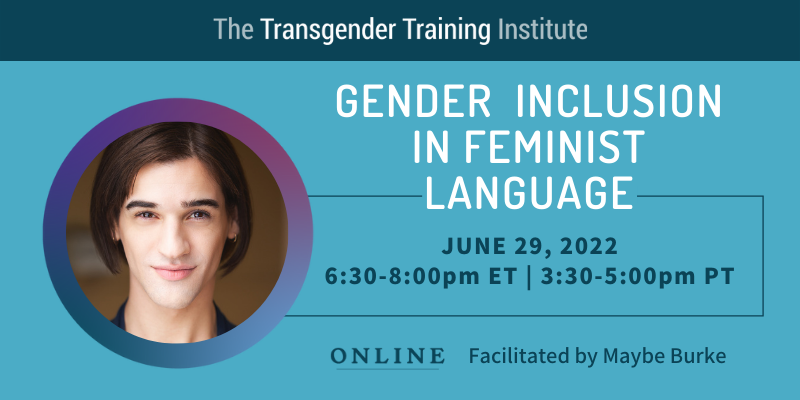 An in depth look at different ways people use language around Women's Rights, and how those efforts land for trans and non-binary people.
Womxn? Women+? How do we use inclusive language when discussing what's historically been known as "women's issues"? Who are we including and why? Join Maybe Burke for an hour-long dive into inclusive language practices, the history and baggage that comes with some of the commonly heard alternatives, and a plan for best practices moving forward. If you want to be able to Identify when language is being used lazily or irresponsibly and be intentional and effective in your inclusion of trans and non-binary people in your feminism, activism, and advocacy – we're here to help.
Participants will be given a better understanding of the ways different words signal inclusion or ignorance around trans and non-binary communities so that they can move forward in navigating and creating truly inclusive spaces.
Participants will be able to:
Recognize when feminist language is being harmful or exclusionary to transgender and non-binary folks
Accurately identify the best language to use in various different scenarios
Date: June 29, 2022
Time: 6:30-8:00 PM ET / 3:30 -8:00 PM PT
Pay What You Can (PWYC)
We understand that COVID has tossed a lot people's finances into long term flux and we want to make our courses accessible. We are operating from a place of inviting folks to pay what you can. Suggested range: $35-75. Suggested minimum: $20.
Finalizing your registration:
Once you have completed your registration, you will receive confirmation from Eventbrite, along with an email from TTI Registration – that email will include a link to a registration survey that you will need to complete in order to finalize your attendance.
Please take a moment to familiarize yourself with our webinar & course policies. If you have any questions or concerns, please visit our website, or email our Registration Coordinator, Forever Moon, at [email protected] (Please note that our emails sometimes get stuck in spam folders because of the word transgender. If you are missing an email from us, please check your spam/junk folder.)
About TTI:
TTI is proudly trans-owned and run business. We are a team of transgender and non-binary educators who facilitate professional development and personal growth trainings with the goal of creating a more just, equitable and affirming world. All of our content is facilitated by our team of transgender and non-binary educators, so you are always learning directly from –and financially supporting– transgender and non-binary community members.
The funds generated from this webinar go directly to our team members, with 55% going to the facilitator, 30% going to the support team, and 15% going to cover our operating expenses. Learn more about us and our values here.