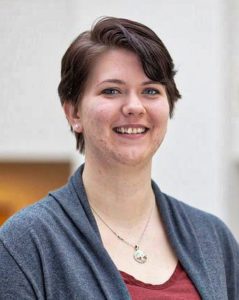 Tara Johnson, M.Ed
., is a sexuality educator based in Washington State and specializing in comprehensive sexuality education and raising awareness about the experiences of people with diverse sexual orientations and gender identities. She started her career as an educator teaching English in K-12 schools in rural Alabama, and transitioned into sexuality education after recognizing the ways in which sexuality is often stigmatized.  As a formally trained sexuality educator, Tara has worked with both student and professional audiences, providing interactive and engaging trainings on a range of sexual health and identity related topics.  While working for the Interdisciplinary Sexuality Research Collaborative at Widener University, Tara developed and facilitated Askable Adults, a professional development training series for youth-serving professionals on how to effectively engage with youth on an array of sexuality-related topics.  As an ally trainer for TTI, Tara co-facilitates our Ally/Advocate Training Camp courses. In addition to her work with TTI, Tara holds a full time position at Washington State University as a Health Promotion Specialist focusing in Sex- and Gender-Based Violence Prevention. Tara holds a Bachelor of Science in English Language Arts Education from Auburn University and a Master of Education in Human Sexuality Studies from Widener University.  Learn more about Tara and her work at:
www.TaraLynneJohnson.com
 Contact Tara at tara@transgendertraininginstitute.com.
Getting to know our team: Four questions:
Why do you do this work?
I am always trying to be a strong ally/advocate for folx of marginalized identities, and I was honored to be asked to join the TTI team as an Ally Trainer. Doing this work enables me to do my part to educate other cisgender people, to hold space for their questions, and do provide the necessary pushback to allow learning to happen. I also love that this work allows me to constantly grow in my own allyship, as I'm always learning new things in my trainings or from the rest of the TTI team.
Favorite Audiences to work with:
My favorite audience to work with is education professionals, from early childhood to higher education. As a former junior high teacher and a current higher ed professional, I enjoy connecting with other educators and offering them concrete steps they can take to be more trans-affirming for their students.
Your hope for trans rights in 10 years?
In ten years, my hope is that trans women of color are able to live safe and fulfilling lives without fear of murder. The rates of murder of trans and non-binary folx, particularly trans women of color, are among the most pressing issues to address.