Maybe Burke is an award winning theatre artist and trans advocate focused on expanding conversations around re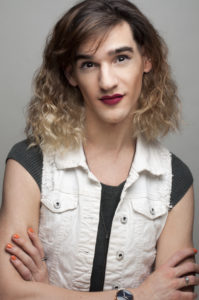 presentation and diversity. They have married their love for storytelling with their passion for advocacy, creating accessible tools that can help people learn how to be respectful and supportive of trans and non-binary people. Maybe has spoken on several panels and various platforms, from Buzzfeed to BroadwayCon. They have also created and facilitated several workshops around trans and queer identities in colleges, universities, community centers, and other settings.
As an artist, Maybe performs around New York City. Their solo show, Love Letters to Nobody, received the 2017 Fresh Fruit Spirit Award for Fostering Pride, Survival, History, and Progress. As the Artistic Associate of Honest Accomplice Theatre, Maybe founded The Trans Literacy Project, in which they collaborate with trans artists, advocates, and activists to produce accessible videos which address questions about trans experiences. They are a curator for the Trans Theatre Festival at The Brick, New York's first theatre festival that features exclusively work written by trans and non-binary identified artists. You can learn more about Maybe at www.maybeburke.com.  Contact Maybe at maybe@transgendertraininginstitute.com.
"If you come in knowing nothing, you'll leave knowing more. If you come in knowing everything, you'll still leave knowing more. The presenters, Maybe & Isobel, are engaging and able and willing to meet where you are to help you become the best possible ally to the trans community." – Sept 2018, Onsite Ally/Advocate Training Camp participant