Maybe Burke is an award winning theatre artist and trans advocate focused on expanding conversations around re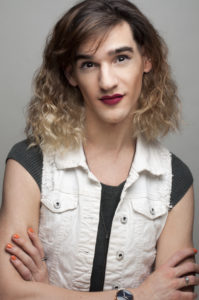 presentation and diversity. They have married their love for storytelling with their passion for advocacy, creating accessible tools that can help people learn how to be respectful and supportive of trans and non-binary people. Maybe has spoken on several panels and various platforms, from Buzzfeed to BroadwayCon. They have also created and facilitated several workshops around trans and queer identities in colleges, universities, community centers, and other settings.
As an artist, Maybe performs around New York City. Their solo show, Love Letters to Nobody, received the 2017 Fresh Fruit Spirit Award for Fostering Pride, Survival, History, and Progress. As the Artistic Associate of Honest Accomplice Theatre, Maybe founded The Trans Literacy Project, in which they collaborate with trans artists, advocates, and activists to produce accessible videos which address questions about trans experiences. They are a curator for the Trans Theatre Festival at The Brick, New York's first theatre festival that features exclusively work written by trans and non-binary identified artists. You can learn more about Maybe at www.maybeburke.com.  Contact Maybe at maybe@transgendertraininginstitute.com.
"If you come in knowing nothing, you'll leave knowing more. If you come in knowing everything, you'll still leave knowing more. The presenters, Maybe & Isobel, are engaging and able and willing to meet where you are to help you become the best possible ally to the trans community." – Sept 2018, Onsite Ally/Advocate Training Camp participant
Getting to know our team: Four questions:
Why do you do this work?
I honestly began doing this kind of work because I saw that there were a lot of people doing it ineffectively. Either people were treating their personal experience as if it were the only experience, or people who aren't trans or non-binary themselves would be guessing and giving out misguided information. I quickly learned that I was a person who could help people to understand the human side of trans identities. I figured the best way I could give back to the community that shaped me was to become an educator.
Favorite audiences to work with?
I'm most passionate about working with people who have a personal stake in this conversation. Be it a parent, a partner, or other loved one, someone who has a trans person close to their life. I like to look at the work that I do as making sure the people in my community are seen and respected at every moment possible. To help give resources and tools to the people that interact with a trans person every day makes me know I'm helping make that person's life a little easier.
Your hope for trans rights in 10 years?
I often joke that my goal in this work is to put myself out of work. I would love to watch the next 10 years progress in such a way that I will move on to another form of advocacy, or working to support another community. It is my hope that we can work toward a world where trans people are respected and validated enough that our language and culture is readily accessible to mainstream audiences.
Anything else you want to share about yourself?
Working for TTI has been one of the greatest professional experiences of my life. Feeling completely supported and taken care of while doing good work that I am proud of and passionate about is not something I take lightly.