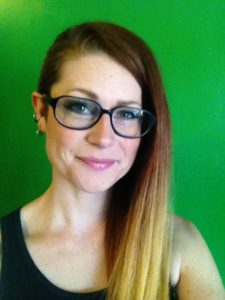 Isobel Connors, MSW, MEd. is a Philadelphia-based sexuality educator and consultant, specializing in LGBTQI+ issues, kink/BDSM, and sex worker rights.  In her work as an educator, Ms. Connors strives to take an intersectional approach—to explore the ways in which culture and society shape sexual identity, and to identify and combat systems of oppression that infringe upon sexual freedom.
Ms. Connors started her career as an educator and activist in 2009, during her undergraduate studies at the State University of New York (SUNY) at Geneseo.  As a student, she helped spearhead grassroots initiatives to address campus sexual assault, homophobia, and transphobia on campus. Upon graduating in 2010 with a Bachelors in Anthropology, she was hired by the university to consult on their 2011 Sexual Assault Teach-In. From 2011-2012, Ms. Connors worked as a Community Trainer for Planned Parenthood, designing and facilitating workshops on such topics as safer sex, healthy relationships, consent, sexual orientation, and gender identity.
Ms. Connors began graduate school at Widener University in 2014, during which time she interned at the Children's Hospital of Philadelphia's Gender and Sexuality Development Clinic.  In 2017, she graduated with a Master of Education in Human Sexuality Studies and Master of Social Work.  Ms. Connors is one of our ally trainers, and co-facilitates our Ally/Advocate Training Camps.
Contact Isobel at isobel@transgendertraininginstitute.com.
"If you come in knowing nothing, you'll leave knowing more. If you come in knowing everything, you'll still leave knowing more. The presenters, Maybe & Isobel, are engaging and able and willing to meet where you are to help you become the best possible ally to the trans community."– Sept 2018, Onsite Ally/Advocate Training Camp participant
Getting to know our team: Four questions:
Why do you do this work?
I do this work because I want to help create a world in which people of all genders feel safe and empowered; a world without discrimination, marginalization, and violence. I define feminism as the endeavor to identify and actively dismantle those institutions that perpetuate gender discrimination and oppression. Advocating for transgender rights—including legal protection against violence and discrimination in housing, healthcare, employment, etc.—is an integral part of my feminism. Being an ally trainer is also a way for me to demonstrate my gratitude to all of the amazing trans and nonbinary people who have offered me their time, feedback, and emotional labor; those who challenged my preconceived notions of gender and helped me recognize and address my cisgender privilege. My goal as an ally trainer/co-facilitator is to help foster similar learning opportunities for participants, and–hopefully–to take some of the pressure off trans and nonbinary folks who are tired of having to continually educate cis people about their identities/experiences.
Favorite Audiences to work with:
I really enjoy working with adult learners for several reasons. I am a huge gender nerd and love having deep intellectual conversations about gender. I find that adult learners are keen to discuss the nuances and intricacies of gender identity and expression. Furthermore, adult learners have a vast array of personal experiences to draw from, which provides a foundation for engagement and helps contribute to their understanding of the material. I also love the challenge of engaging adult learners in affective learning. In my experience as an educator, adult learners tend to jump straight to intellectualizing emotionally-charged material, rather identifying their emotional responses. It's incredibly fulfilling to create a space for folks to take a moment to really sit with their emotions and to embrace their discomfort. This is when I witness folks really digesting the material we've been covering. Lastly, adult learners bring with them decades of internalized messages around gender, and I really enjoy guiding participants through the process of unlearning much of what we've been told about gender; to dig through and unpack all the problematic gender messages we've each received throughout our lives.
Your hope for trans rights in 10 years?
I have so many hopes for trans rights in 10 years, but, for the sake of brevity, this list will only scratch the surface. I want to see gender identity and gender expression included as protected groups in federal non-discrimination policies and laws. I want universal healthcare that covers gender-affirming care, and I want healthcare providers to receive proper training to serve trans and nonbinary individuals and communities better. I want to see systemic criminal justice reform that provides greater protections for trans and nonbinary people who are incarcerated, and that addresses the high numbers of black and brown people who are wrongfully imprisoned and/or receive unreasonably harsh sentencing, I believe it was Kate Bornstein who said that our gender is not a static construct; that it shifts and evolves with us throughout our lives.  My wish for 10 years from now is that more people—of all gender identities—feel empowered to fearlessly and unabashedly explore and engage with their gender and the many possibilities of expression.  As Jacob Tobia puts it: "I want to live in a world where gender is this playful thing; where there's no patriarchy, no misogyny—none of the things that make gender suck—and only the things that make gender great."
Anything else you want to share about yourself?
I feel incredibly honored to be a member of the TTI team. Although my job title is "ally trainer," I am by no means done growing or learning when it comes to my allyship. Allyship is messy work, and I strive to have humility in the work that I do, and a willingness to grow from my mistakes rather than wallowing in them.