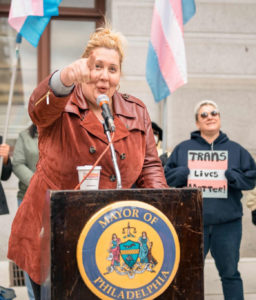 Deja Lynn Alvarez is an award winning transgender advocate and activist with a long history of representing and serving trans communities in Philadelphia.  She volunteers in leadership capacities for several local organizations, including: the Mayor Kenney's Commission of LGBT Affairs and the Philadelphia Office of LGBT Affairs, William Way Community Center, Philly Women's Rally, and the Liberty City Democrats. Ms. Alvarez also serves as a member of the Philadelphia Police Advisory committee, the Pennsylvania HIV planning committee, co-chair of the the annual Trans March in Philadelphia, and chair of the annual Philadelphia Trans Day of Remembrance.
She is a group facilitator at The Philadelphia AIDS Consortiums' Transformation Group and has facilitated groups at the Morris Home, the first trans-specific recovery home in the United States. Ms. Alvarez is the co-founder and former executive director of the LGBTQ Home for Hope where she was able to get the first LGBTQ specific shelter/recovery program in the city up and running.  She is one of the founding members of the Trans Wellness Program at Mazzoni Center, a co-founder and former facilitator of Sisterly Love (a Trans support and skill-building program by and for transgender women), and a former coordinator for the Trans Information Project of GALAEI.  In recognition of her leadership and dedication to Philly's trans communities, Ms. Alvarez was awarded the 2015 Jaci Adams award, from Philly Pride and the 2016 Person of the Year from the Philadelphia Gay News, among numerous other awards for her life's work and dedication to Trans and LGBT causes.  Professionally, she currently works as a system navigator for the City of Philadelphia's Department of Health.  She joined the TTI Training Team in 2018, and brings with her a wealth of knowledge about the transgender communities and lived experiences of transgender people.
Contact Deja at deja@transgendertraininginstitute.com 
Getting to know our team: Four questions:
Why do you do this work?
I faced bullying, discrimination, bias, and violence almost my entire life whether it was because I was too feminine when I was younger or after I had the term for being transgender. Going into my adulthood as a transgender woman, I faced harassment, abuse, false arrest, physical harm, and bullying by the police. I also started to understand what privilege was a learning that even though I was an Alvarez and a transgender woman, that many in my community faced even worse–because not only were they trans, they were also black. There were times where I would be the one to carry the weapon for protection or I would be the one to flag down a cab in our group. One night while trying to flag down a cab I was verbally assaulted by an officer that had been doing that for many years. It escalated quickly into a physical fight because I could not and would not take that abuse anymore. I found my voice that night. I found a way to use that voice and to use my privilege to help.
Your favorite teaching story:
It was during a training on personal and professional boundaries. There was a very young black trans woman in the training who was very clear she did not want to be there. At the end of the day after the training she approached me and apologized for the attitude that she had presented earlier in the day. She said that me sharing some of my personal story helped her to see herself in me. She realized that we shared similar experiences having to do survival sex work, facing discrimination, and I now I was facilitating in a professional setting. I was able to help her see that we are not limited by our gender identity.
Your hope for trans rights in 10 years?
My hopes for transgender rights in 10 years are that we will have them and there will no longer be a need for specific transgender trainings.