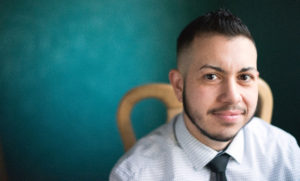 Daniel A. Fernandez
Daniel is a New Jersey based health educator and activist with over seven years of experience as an educator and community advocate.  Much of his professional work has centered on civic engagement and youth leadership development within the non-profit sector to leverage opportunities and resources for underserved communities. In particular, Daniel specializes in supporting transgender youth and adults, LGBQ communities of color, youth with different abilities, and working within the transgender Latino community.  As an educator, Daniel has trained a variety of school, medical, non-profit and social service audiences, including fellow health educators, teachers, students and social service and medical providers.  Daniel has also worked with an array of leading state and nationwide LGBTQ+ organizations including Campus Pride, GLSEN and PFLAG, and served as co-chair for the Gender-Sexuality Alliance Forum and Trans Youth Forum, two of New Jersey's leading LGBTQ+ conferences. Daniel holds a Bachelor of Arts in Women & Gender Studies and Sociology from William Paterson University, and has been a member of the TTI team since 2017.
Contact Daniel at daniel@transgendertraininginstitute.com.
"Daniel did an amazing job leading the training. He really did a fantastic job creating a safe space, especially among such a large group, for everyone to participate and ask whatever questions they had. The session ended up being a bit larger than usual, but even with that, folks were really engaged and open, and learned a lot!"
Getting to know our team: Four questions:
Why do you do this work?
I do this work because we have to. Many trans folks before us have paved the way for educators like us to even be able to do this line of work by educating, advocating and putting their lives on the front lines to make it known that we exist. I feel a great sense of responsibility as an educator, as an advocate and as an adult who is transgender, Latino and a citizen to help bring change and give folks access to information that wasn't accessible to me growing up.  I do this work in hopes that by paying it forward, by building bridges and by sharing spaces with folks who we too learn from, we will be able to hear more stories of healing, success, and positive change for transgender people in all parts of the world. 
Your favorite teaching story:
I'll never forget the time that I was teaching at a high school for a GSA club. The students were predominantly 1st and 2nd generation students of color. A young girl came up to me afterwards and told me "I never met anyone else like me. I didnt know people talked about people like me." It's moments like these that remind me why the work we do is life changing.
Your hope for trans rights in 10 years?
My hopes are that the hopes we have for our community today are no longer the same hopes 10 years from now. That we see witness and feel change, see more schools with teachers who are visible allies, see more inclusivity and diversity in spaces of learning and work, see more positive and accurate representation in the media, see more accessible bathrooms and affirming public spaces, see trans folks being celebrated and not just mourned or feared and hear more success stories. My hopes are to move beyond the word ally and more towards humanity and see our community thriving, living, having access to everything we need to truly live full healthy happy lives just like everyone else. That is my hope for today.