Dr. Jaymie Campbell


Senior Training & Consulting Team




Pronouns: He/Him/His
Dr. Jaymie Campbell is a highly regarded, passionate, formally trained educator and content matter expert with over a decade of experience in facilitating highly impactful trainings on topics related to race and gender. He has dual specialty in teaching about transgender and non-binary communities, and, Sue et al.'s (2007) racial microaggressions framework and its intersections with gender identity and sexual orientation.  Throughout his work, Dr. Campbell strives to help eliminate disparities and inequity towards a just world.  He has been invited to develop and facilitate training curricula for organizations including but not limited to: Sidney Kimmel Medical College at Thomas Jefferson University, Connecticut Hospital Association, Pennsylvania Bureau of Family Health, The Pennsylvania Society for Clinical Social Work;  Planned Parenthood Federation of America, National Family Planning and Reproductive Health Association, New York City Department of Education, and various other foundations and institutes associated with sexual health.
Dr. Campbell's subject matter expertise and educational work are heavily informed by his learnings from his non-profit career serving individuals and communities that endure intersecting oppressions, particularly Black, Indigenous, and People of Color (BIPOC), transgender/non-binary, lesbian, gay, bisexual, and queer (LGBQ), and HIV+. His direct service work has included providing counseling and crisis management for homeless queer and transgender youth of color, supporting individuals living with HIV in Philadelphia, and serving Blacks adults in the Tenderloin District of San Francisco who were coping with the negative mental and physical health impacts of multiple minority stress. He has also managed and grown multiple training programs including the Ally Safe Schools Program of Mazzoni Center for transgender/non-binary and LGBQ youth, the Professional Development Program of Mazzoni Center for adult learners, three years of programming for the Philadelphia Transgender Wellness Conference, and most recently serving as the Director of Training and Capacity Building at AccessMatters.
Dr. Campbell takes particular joy in guiding participants to unlearn misinformation about transgender and non-binary people so that they can be seen as human beings worthy of respect and care, and facilitating healing processes for BIPOC around racial trauma.  He teaches with his whole heart, meeting people where they are to help move them forward­–and his passion for the topics and love of teaching is infused throughout his work.  He believes that what changes individuals and, eventually, entire organizations, is the motivation to implement new language and skills from a place of cultural responsibility; therefore, his trainings are experiential, process oriented, and conversation based rather than lecture based.
Dr. Campbell holds a PhD in Human Sexuality Studies from Widener University, a Master of Arts in Counseling Psychology with an emphasis in Community Mental Health from the California Institute of Integral Studies and a BA in Feminist Studies from the University of California, Santa Cruz.  He is the co-author of the International Journal of Transgenderism's forthcoming special volume: "Transgender People of Color and Intersections of Oppression" and his dissertation research centered on racial and gender microaggressions experienced by transgender people of color.  Dr. Campbell's work in race and gender in Philadelphia has been recognized by the Social Innovations Awards. Dr. Campbell joined the TTI team in 2015 where he specialized in training medical and behavioral health providers, K-12 public and independent schools, and institutions of higher education. He also works with workplaces, non-profit organizations, government organizations and foundations of all sizes to help them advance their gender and racial equity goals.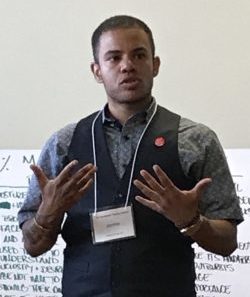 February 1, 2020
We asked each of our Training Team members to answer a few questions about their…