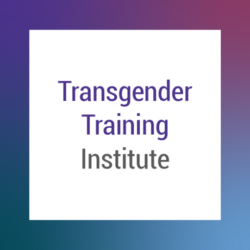 The Transgender Training Institute (TTI) is a proudly trans-owned business that provides training and consulting services, facilitated by transgender and non-binary people, with the goal of contributing to a more just, equitable and affirming world. We combine our topical expertise & lived experiences, formal training as educators, intersectional social justice values, and decades of facilitation experience to provide your participants with powerful professional development trainings. Our business model centers on funneling economic resources to transgender and non-binary people.  TTI was founded in 2015, by Dr. Eli R. Green.
As a company:
Our business model is guided by the following values:
Transparency Note:  TTI has grown much faster than we anticipated, which means that we are evolving in wonderful ways faster than we are able to update our website!   Our current energy is going into building intentional systems of equity, and we have a plan for updating our website and other materials to reflect our current values & practices.  We are excited to show you what we are up to, and appreciate your patience in the interim!  ~ The TTI Team
As a proudly trans-owned business, TTI uplifts and amplifies voices of transgender and non-binary people. With the exception of our guest Ally Trainers, TTI everyone who works at TTI identifies as a part of the transgender and non-binary communities. As we grow, we are working to intentionally build a team that represents the depth and breadth of diversities within transgender and non-binary communities.
We believe that the redistribution of financial resources to transgender and non-binary people, particularly those who are also Black, Indigenous, or People of Color, is an essential component of true social change. We operate using an economic justice and sustainability model that centers on redistributing money to transgender and non-binary people and being transparent about how we do so:
55% of our training fees & ticket sales go directly to our trainers

30% goes to pay team members for the work of running TTI

15% covers our operating expenses

All non-training work is paid at $30 per hour.
We understand that trans-related education is often most needed where budgets are limited. We strive to find the balance of working within budgets, while fairly compensating our training team for their labor and lived experiences. To keep our offerings financially accessible, our webinars are 'pay what you can', our courses are sliding scale, and we provide scholarships for our Training-of-Trainers intensives.
We stand with organizations that support transgender and non-binary individuals and communities, as well as other organizations and collectives that seek to end oppression and provide related support services to individuals and communities.  A portion of our profits are redistributed to trans-led/serving organizations and other anti-oppression causes chosen by the TTI team members.  For financial transparency, we list our donations below.  (Note: in 2022 we are working towards a new structure that allows us to redistribute a greater amount of resources as a part of our core values. Our donations are on pause while we get this new structure in place.)
2022:
2021:
2020:
As educators:
Our facilitation is guided by the following values:
We believe that trainings should be opportunities for learning – both personally and professionally – and that this is most likely to happen when our participants are met where they are, feel respected, and are empowered to grow.
We believe that in order to enact true social change it is necessary to disrupt and dismantle the multiple oppressions that impact transgender and non-binary individuals and communities (and beyond). We believe that an intersectional lens is critical to our collective liberations as marginalized peoples and communities, and that our oppressions are inextricably linked.
We believe that as educators we need to continue to grow and learn to do our best work. In particular, we hold a shared commitment to personal and professional growth around dismantling the oppression of all marginalized peoples, so that we are always improving skills to call attention to and uplift other marginalized communities.