We offer Transgender specific Training of Trainers in our home city of Philadelphia and in other cities by demand, or, we can come to you!
Led by TTI founder Dr. Eli Green, our Training-of-Trainers is a three day professional development course for educators, trainers and facilitators who are interested in teaching transgender content to cisgender adults and want to connect with others who are doing this work!
Are you a trainer who is looking to:
Incorporate transgender topics into your current work?
Hone your training skills on transgender topics?
Learn best practices in teaching transgender content?
Increase participants' compassion and empathy?
Finesse your responses to Transgender FAQs?
Address participant microaggressions?
Utilize the best teaching methods to match your goals?
If so, our TOT is the course you are looking for!  During our time together we work together to break down the key elements of a successful "Trans 101" training – the nuances of framing and explaining terminology, navigating FAQs, building compassion, integrating intersectionality, and managing participants' microaggressions — and then put it all together by building an agenda to meet the needs of your audience. We use The Teaching Transgender Toolkit: A Facilitator's Guide to Increasing Knowledge, Decreasing Prejudice & Building Skills as a textbook for this course, we help prepare educators to implement the lesson plans included in the book and provide support around aspects of nuanced facilitation such as responding to Frequently Asked Questions, handling challenging participants, addressing microaggressions and managing resistance or social justice fatigue.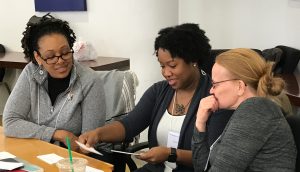 This course is open to people of all genders, and while experience as a trainer is useful, it is not required. Having a strong knowledge of transgender content is required.  Having a working understanding of intersectionality is also helpful. Our trainings draw participants from all over the United States, and a wide variety of implementation settings, including:  K-12 schools, diversity trainings, colleges and universities, public health organizations, direct service and community based organizations, local, state and federal government, as well as corporate and business environments.
Have questions?  Please visit our TOT FAQ page.
Have questions?  Visit our TOT FAQs page for answers!
******************************************
"I have never experienced a TOT that had my attention from start to finish. There was so much information, in any other TOT I would be fatigued halfway through, however this was a TOT lead by passion and love for the work we do, and it was phenomenal! I feel renewed for the work I do."

"I cannot say enough about how positive and wonderful this workshop experience was. I learned so much and was surrounded by so many caring kindred spirits. Thank you Dr. Eli R Green!"

"Thank you for such a brilliant training. I wish I had better words to describe how meaningful the past three days have been. I learned more this week about how to be a better trainer of adults than I have from any other training."

"Even though I have discussed these topics in various other settings, the skills practiced within this training have significantly increased my confidence in training others on transgender-related topics."


"Thank you. It was such an incredible experience and the best TOT I have attended in 10 years of training. The feedback, design, and resources will help us greatly improve our services to better amplify transgender health equity."
Prior Open-Enrollment Training-of-Trainer Courses:
July 22-24, 2019, Philadelphia, PA
May 7-9 2019, Portland, OR
March 13-15, 2019, Philadelphia, PA
September 12-14, 2018, Omaha, NE
July 31- August 2, 2018, Brooklyn, NY
June 26-28, 2018, Philadelphia, PA
January 16-18, 2018, Philadelphia, PA
November 1-3, 2017, Philadelphia, PA
July 31- August 2, 2017, Philadelphia, PA
June 20-22, 2017, Philadelphia, PA
January 11-13, 2017, New York, NY
November 4-6, 2016, Philadelphia, PA
August 15-17, 2016, Philadelphia, PA
August 8-19, 2016, Philadelphia, PA
June 26-28, 2016, Ithaca, NY