In addition to providing onsite trainings, The Transgender Training Institute hosts courses where participants can sign up and come work with us.  Our current course offerings are: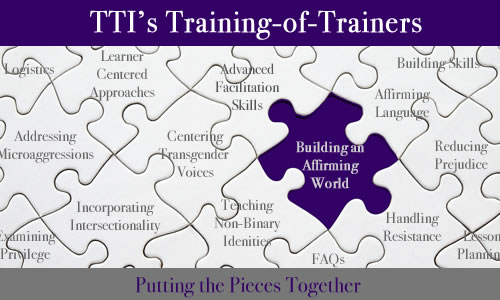 Our hallmark Transgender Training TOT is a professional development course for educators, trainers and facilitators who are interested in teaching transgender content to adults.  Over the course of three days, we break down each of the elements of a successful "Transgender 101" training and help our participants to hone their skills to deliver highly impactful trainings.  We use The Teaching Transgender Toolkit: A Facilitator's Guide to Increasing Knowledge, Decreasing Prejudice & Building Skills as a textbook for this course, we help prepare educators to implement the lesson plans included in the book and provide support around aspects of nuanced facilitation such as responding to Frequently Asked Questions, handling challenging participants, or managing resistance or social justice fatigue. Our trainings draw participants from all over the United States, and a wide variety of implementation settings, including:  K-12 schools, diversity trainings, colleges and universities, public health organizations, direct service and community based organizations, and corporate environments. This course is designed for individuals who have a solid transgender knowledge base and are interested in teaching this content to other adults.  Experience teaching is often helpful, but not required. People of all gender identities and expressions are welcome in our TOTs, and we consistently strive to create a learning space that is fully affirming.  We offer scholarships for those who would not otherwise be able to afford to attend.
Click here to learn more, or register for an upcoming TOT.

Want to be a better ally or advocate for transgender and non-binary individuals?  Come join us for TTI's Ally/Advocate Training Camp (ATC)!  This class helps participants increase their transgender-related knowledge and provides opportunities to practice the key skills needed by allies to be effective advocates.  Whether you have a family member who has recently come out to you as transgender or non-binary, you want to better support a friend or loved one who is transitioning, are seeking to be a more effective ally in the workplace or you just want to be better informed, ATC will help build your knowledge and skills to be a better ally and advocate!  We offer a certain number of sliding scale seats for each ATC, and more when we are able.